19/04/2019
We Reviewed Decathlon's €140 Million Growth Marketing Strategy [Case Study]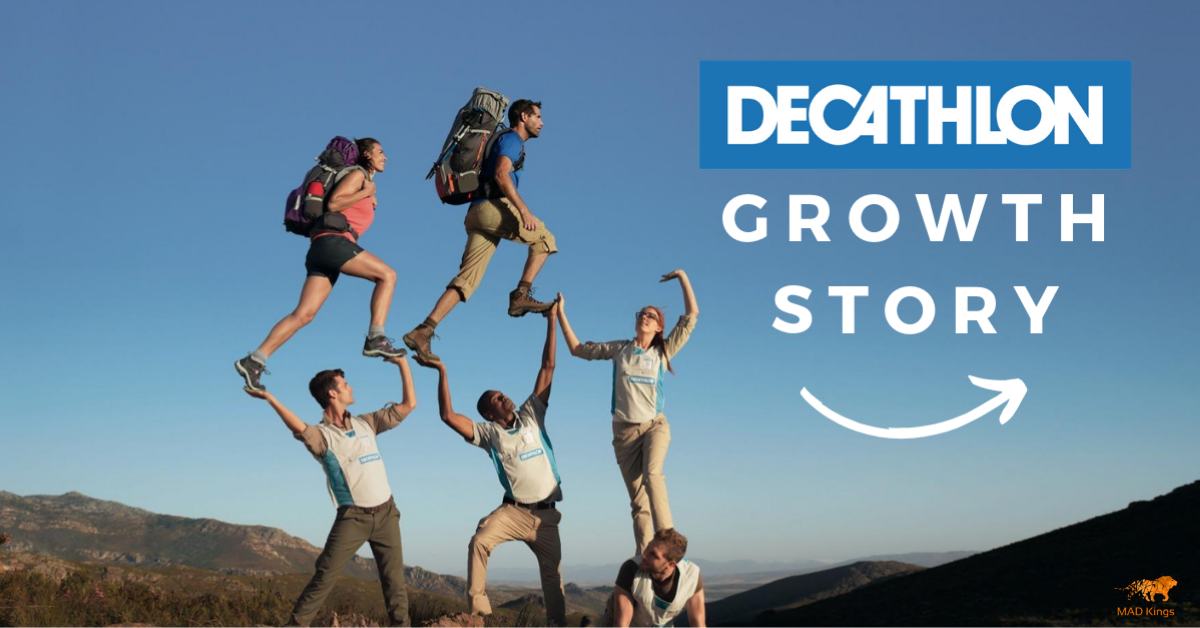 Before we begin, we want to emphasise the fact that Decathlon is not (yet) one of our clients.
We conducted this analysis without access to their data. Imagine what we could do if we had it…
We decided to choose Decathlon for 3 reasons:
We love their products
We asked our audience and they voted
We are impressed by their phenomenal growth these last years
And now it begins.
140,000,000 €!
That's the total online sales Decathlon generated in 2018.
And it only accounts for 4.5% of global sales generated in France. By providing a seamless experience both online and offline, they have become the largest sporting goods retailer in the world with a two-digit turnover growth for the past 8 years.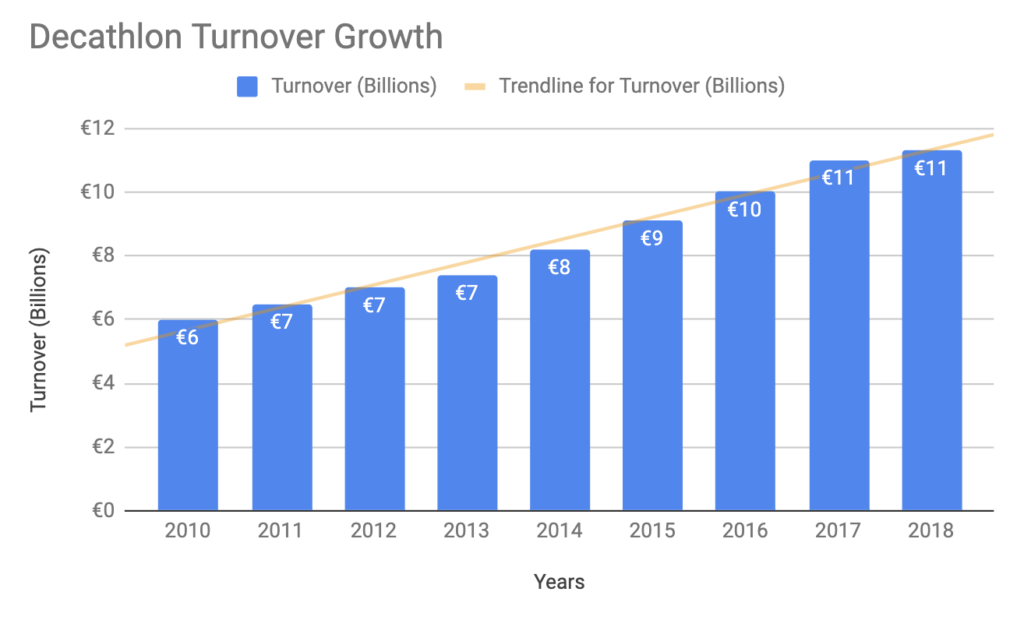 But how the heck did they do it?
Well, the answer is quite simple: By developing their own brands and selling them to the masses…
All of that with high-quality products and sold at the most affordable price!
This is Decathlon's key to success.
By doing the exact opposite of their competitors, most of whom act as simple distributors, they are now able to compete with giants like Amazon, Adidas or SportsDirect.
Proud of this European growth story, we decided to create a case study.
In this article, Thomas and I have analyzed Decathlon's growth marketing strategy. We took a look at what they're currently doing in terms of digital tactics and audited their customer journey!
The best part?
We mapped out the whole strategy on the Growth Marketing Canvas!
Sidenote: Since we're writing this blog post in English and although the online strategy might differ from one website version to another, we decided to run the audit based on the U.K website.
Table of contents
Decathlon growth foundations
The golden circle of Decathlon
Ever heard about the golden circle from Simon Sinek?
Long story short, people don't buy a product for its features but rather because it solves a problem.
If you want more information, check the example for Apple.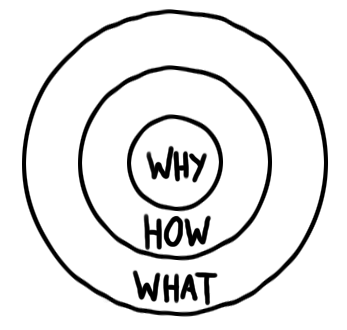 Let's explore together the one from Decathlon:
WHY does Decathlon exist?
"DECATHLON MAKES SPORT ACCESSIBLE FOR THE MANY."
Decathlon's main mission is to make sport accessible to as many people as they can. They want to help, inspire and guide people through sports experiences. They believe that being active and discovering new sports every day is an important part of a healthy lifestyle.
HOW does Decathlon position itself?
By making sports gear and equipment easily available for everyone, and also by offering affordable options to ensure everyone can have access to their products.
WHAT does Decathlon do?
Decathlon makes and sells sports gear and accessories, for around 70 different sports and at an affordable price.
The personae analysis
The goal is clear: selling to the masses!
But that doesn't mean targeting every single human being. As previously mentioned, their mission is to make sport accessible to many.
Decathlon's audience includes 3 primary customer segments:
Young people
Middle-aged people
Senior/retired people
But that's still a bit too broad.
Let's put some context here. The single guy going to the gym 5 times per week is not going to shop at Decathlon for the same reasons as the 40 something dad with two kids.
That's why the sub-segmentation is required (see the graphics below).
And for each primary segment, the second variables are:
Single
In couple
In couple with children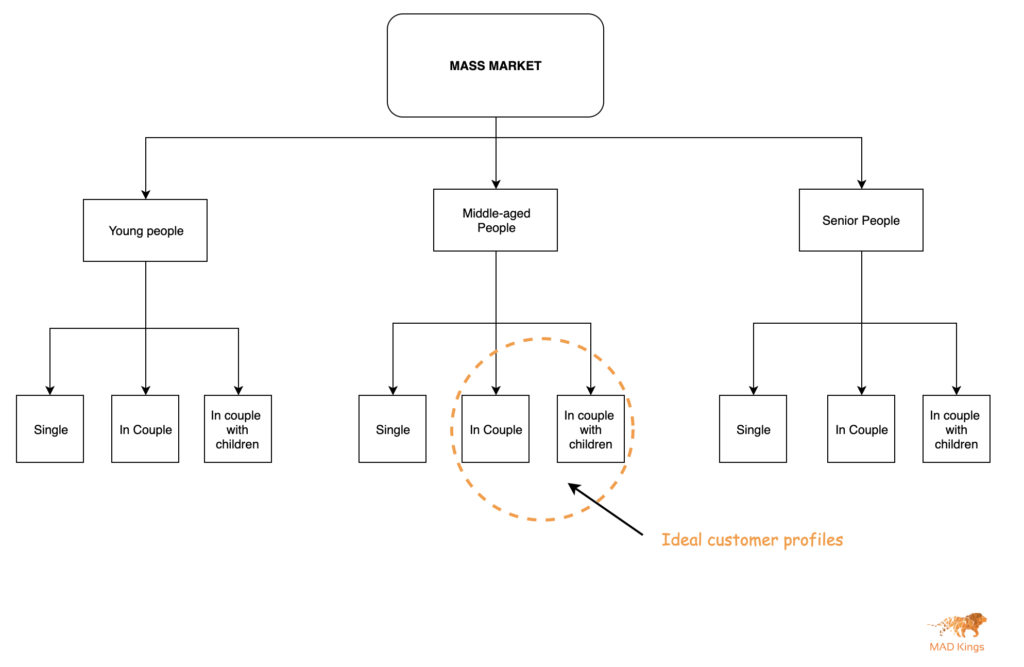 Remember, not all customers are created equal!
Analyzing every customer segment helps you to identify the ideal customer profile. Unfortunately, we don't have the right data to define the one from Decathlon. But we know that the French retailer is targeting consumers who seek value for their money rather than image or brand names (such as Adidas or Nike).
Our best educated guess is that the middle-aged primary segment represents their ideal target.
Why?
Simply because these customers tend to purchase more often for their kids and have greater purchasing power.
The product DNA
The "Hyper-specialist" product strategy
Selling sporting goods at a low price.
That was founder Michel Leclercq's goal when he created Decathlon in 1976.
He first started as a reseller for other sporting brands but quickly hit a wall. Not only was everyone laughing at him but no brands wanted to deliver to him anymore.
So he decided to design and manufacture his own products.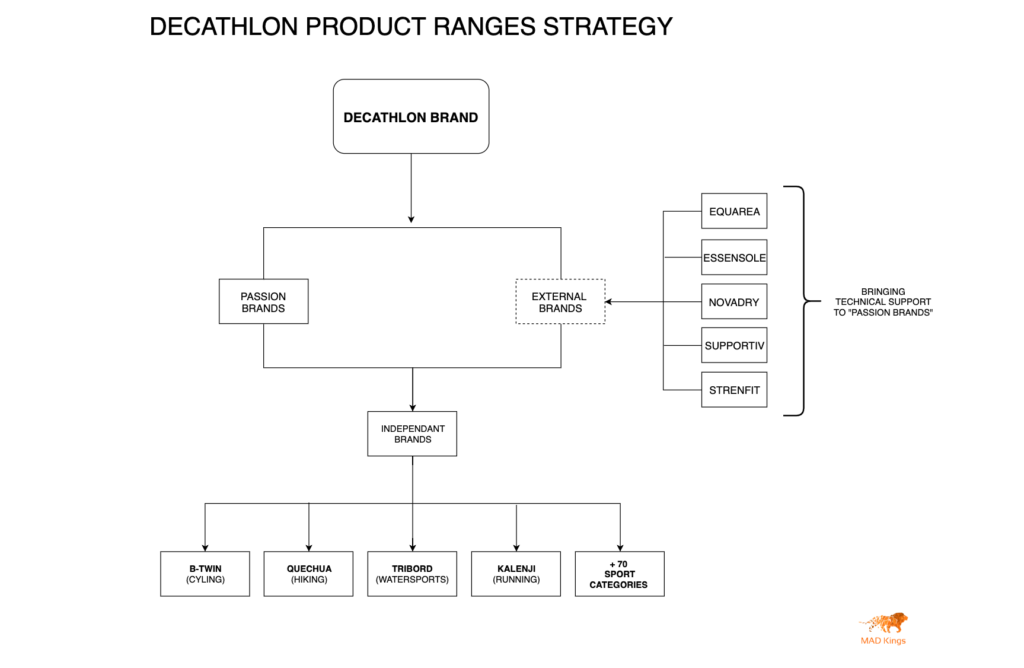 He first created his own bike frames and sold them under the "Decathlon" brand name. It was such a success that a few years later he followed the same process to expand its own touch on other sports and called them "passion brands".
Today, Decathlon owns 25+ labels and covers more than 70 sports (aims to reach 100).
That's Decathlon power.
Being hyper-specialized in every sports category to be the most relevant…
Their end goal?
Becoming the Ikea of sporting goods!
The community "validation first" strategy
At Decathlon, all the products are made by sportsmen for sportsmen.
What does that mean exactly?
Well, instead of "guessing" what products they are going to sell, they use their own community and involve them to build products that solve customers' pain points.
To do that, they combine two core elements: customer feedback and "the insights".
A few years ago, they launched "Decathlon creative". This sharing platform allows consumers to submit a product idea. If the idea gets enough votes from the community, Decathlon's team will produce it.
Sidenote: Unfortunately, they closed the initiative for the international market…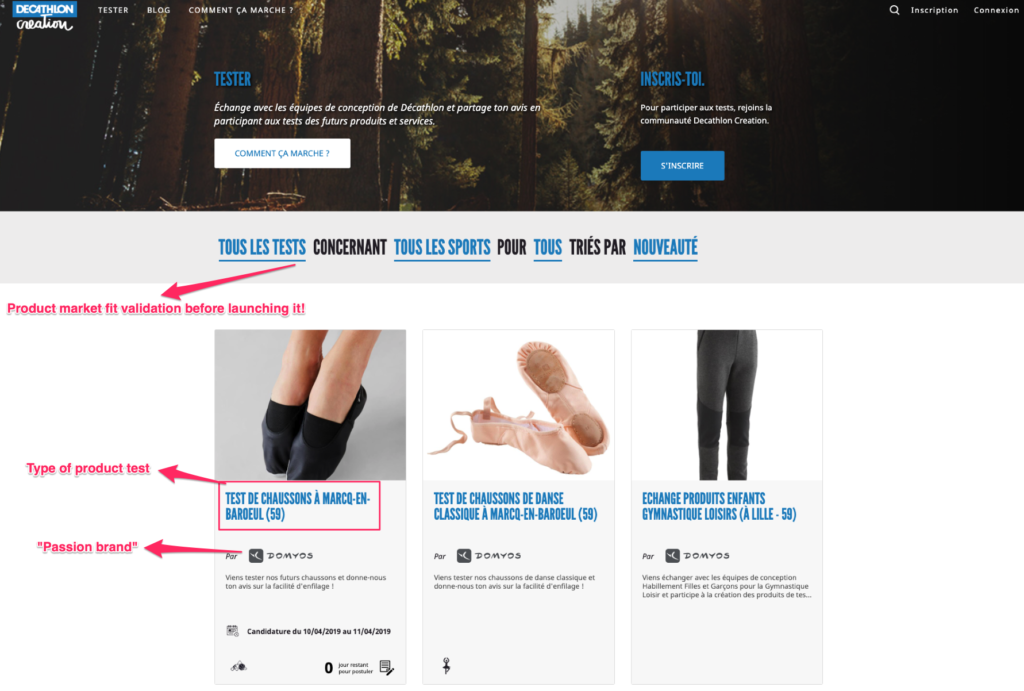 You might be wondering what they mean by "the insights", right?
Basically, they ONLY recruit passionate sports people and this applies for everyone from the cashier to the store manager. The goal is the same as for the customer feedback: calling on a community — in this case, their own employees — to come up with "sudden innovative" product ideas.
They recently built "Decathlon village" which brings together sports gear, R&D spaces, and offices. The most recent one is the kipstadium, which includes hockey, football, and rugby pitches… next to the kipsta headquarters and open to the public.
Fun fact: the easybreath mask came from a project manager, an avid scuba diver himself, who witnessed swimmers struggling between their snorkel and their mask while swimming.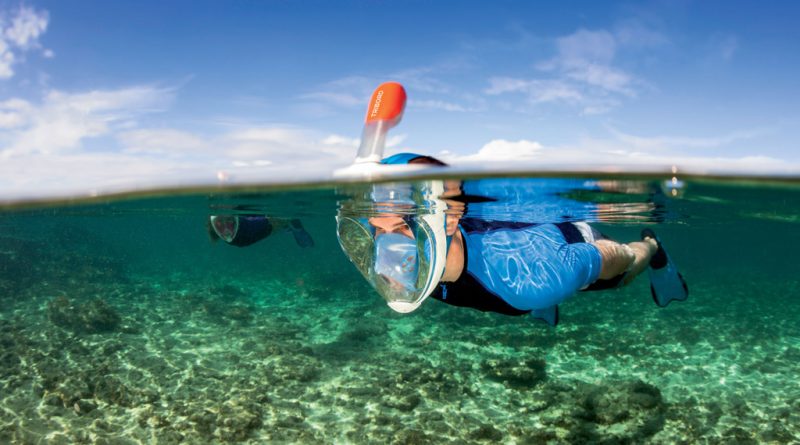 The "BE EVERYWHERE" distribution strategy
Decathlon owed its revenue growth to their omnichannel strategy.
With more than 1,000 stores, plus strategic warehouses, all around the world, Decathlon sells its products 30-40% cheaper than the competition. As a matter of fact, they recently surpassed big names such as Nike and Adidas in revenue in India.
The French retailer has also developed a strong digital presence with more than 14 websites and 32 mobile applications (20 IoS – 12 Android).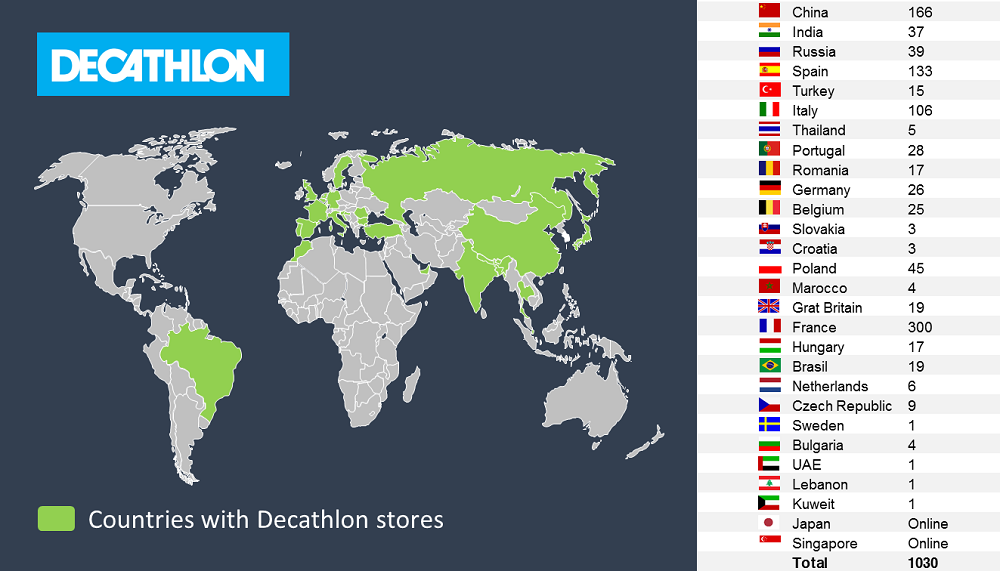 Source: companisto
Website traffic analysis
Traffic and rankings
The UK website traffic is quite good with over 2 million monthly visitors and a global ranking of 46th in the shopping/sports category.
We can see a slight decrease around February which might be due to the seasonality of sales in this market. Indeed, December and January are usually big months for online stores with Boxing Day or Christmas. The engagement is reasonable with a 45% bounce rate and an average time on site of 4 minutes.
What is striking here is the incoming traffic source…
Almost 60% come from mobile!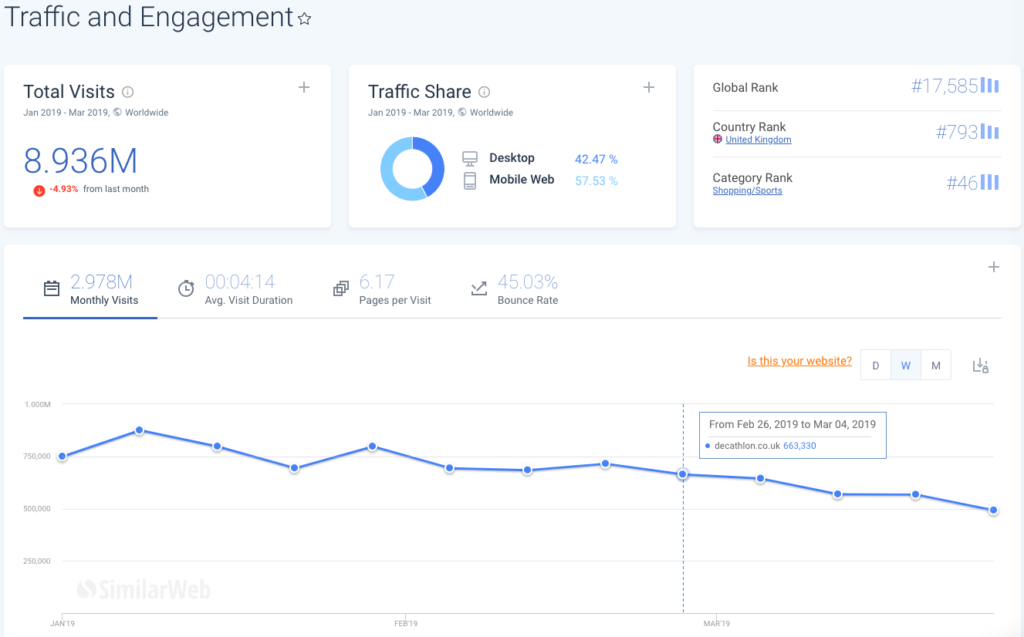 The competition landscape
Decathlon's case is quite specific.
Although they compete with big international brands, they also need to take into account the local competitors. Let me rephrase that: the competition varies with location!
You won't find the same competitors in the UK market as you would in the Belgian market.
In the UK market, there are 3 main competitors:
Gooutdoors.co.uk
SportsDirect.com
Evanscycles.com
Unsurprisingly, almost 50% of Decathlon's visitors come from the UK. SportsDirect seems to be the most dangerous competitor.
They are actually siphoning 53% of the website traffic amongst the group!

Acquisition channels
Decathlon's main acquisition channels are SEO followed by direct traffic.
They chose to play the long term game by investing in a strong SEO strategy and being less reliant on paid search channels. In fact, the latter only accounts for 6%.
Having "direct" traffic as a second acquisition channel is a positive sign — because it means that your brand awareness is well established!
Here is a breakdown of the acquisition channels: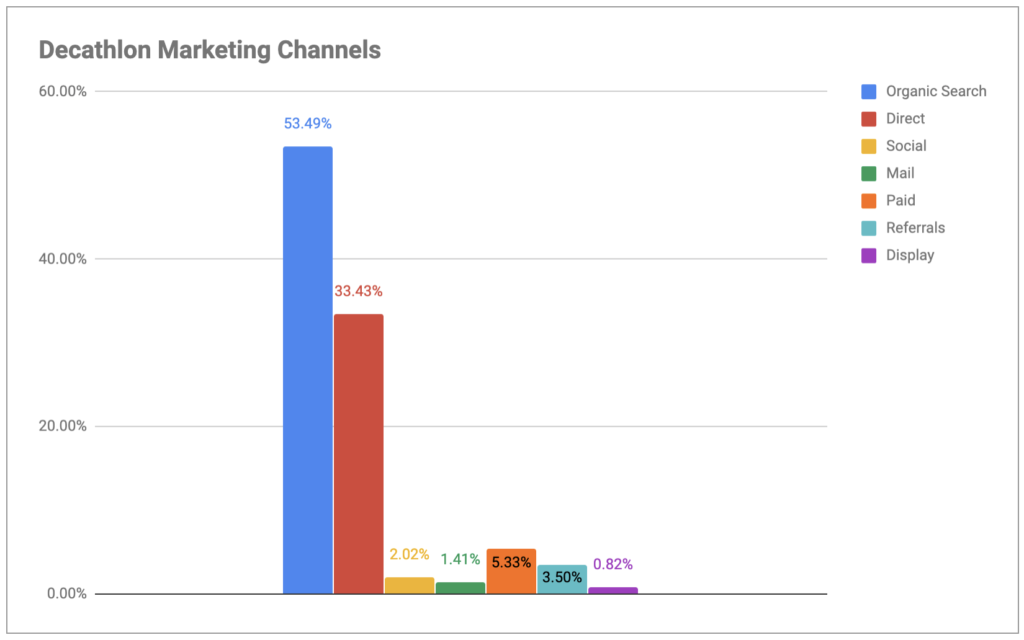 Search engine optimization (SEO)
URL Structure
The logic seems to be the same as for the offline world.
Being locally present in every location and being the most relevant to the locals! With more than 14 websites, they opted for the "country code top-level domains" structure (ccTLD).
For the UK website, the website address is: decathlon.co.uk
The advantage: easier to rank locally when exploring international SEO options.

Organic Keywords

Decathlon's website basically ranks for 453,000 keywords, resulting in a high volume of traffic of more than 1 million visitors just from organic search!
The graph below shows that a lot of investments were made at the end of 2017. Since then, the company's SEO growth has been unstoppable.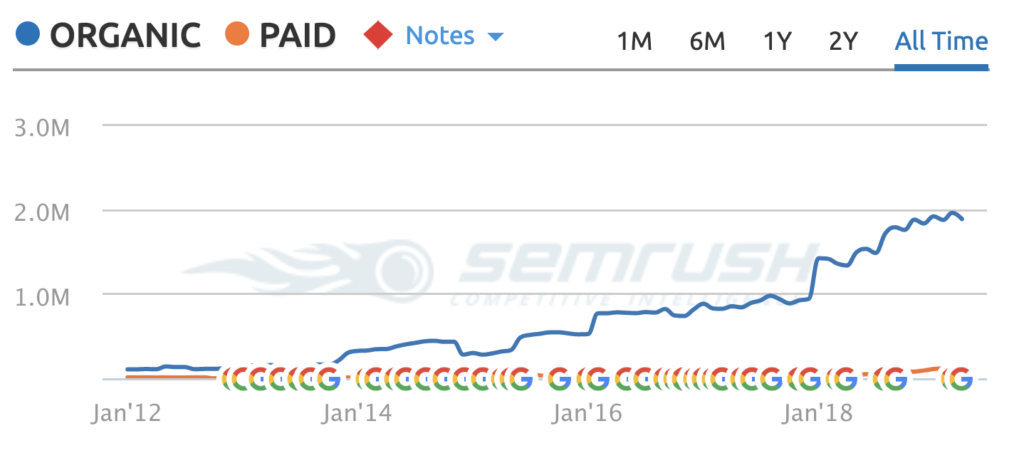 Out of those 453,000 keywords, 13,063 are in position 1-2.
While a large percentage represents their brand keywords, they sometimes rank first for "resistance bands", "Snow boots" or "sleeping bag".
Backlinks

Authoritative websites pointing to your website remains a high ranking factor for Google.
With almost 5 million links pointing to their website, Decathlon has a very strong backlink profile.
Most of the links pointing are from other versions of Decathlon's website (.fr, .be, …).
As we can see, the number of referring domains keeps growing, with the exception of an apparent decrease in January 2019.

Content strategy
Although Decathlon has a strong SEO strategy on the technical side, this is not true for the company's blog.
There are a lot of "how to" articles, which is good at first glance, but most of the blog content is under 300 words, with very few images and internal links!
There is clearly a lack of structure.
We checked the most engaging content and the results are underwhelming… The most engaging piece of content got only 111 facebook shares!
By contrast, the French version is more focused on giving practical tips.

Nevertheless, both of them lack a coherent content distribution strategy.
Why would you bother creating content if you don't aim to distribute it?
Here are the mistakes and missed opportunities we noticed:
No newsletter section (or at least not obvious)
No facebook pixel set-up
Relies mainly on ONE social media channel (Facebook)
Quick tip: create high buyer intent articles and add your products to your blog post!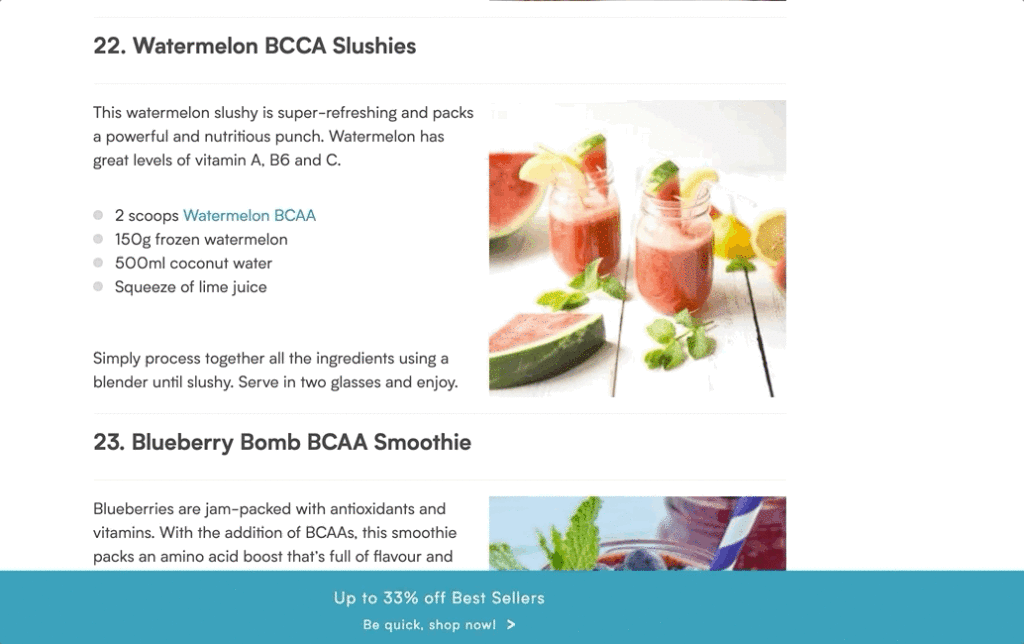 Search engine advertising (SEA)
Decathlon is bidding on over 10,000 keywords.

It seems that they haven't put all their eggs in the same basket by choosing Bing/Yahoo in addition to the Google Ads networks. When you are in such a competitive market, it's always good to explore alternatives to Adwords.
Out of a large number of keywords they're bidding on, they are mainly focused on short to middle tail keywords.
For instance, "Riding boots" and "Running jacket" are the keywords that bring the most traffic in terms of paid search.

We can see from the graph below that the competition is quite fierce.
 
Decathlon has to fight against giants like Amazon with a huge paid search budget. As a result, both Amazon and SportsDirect.com are eating up the top position in search results. Although Decathlon was lagging behind the whole year, it seems that they doubled their efforts at the end of January.
Quick tip: consider using long tail keywords for your PPC strategy.

Facebook advertising
Decathlon's UK team only uses single image ads to showcase their products.
They seem to be mainly testing the copy and the image for different campaigns but they're not using any video ads. Maybe they've tested it and it hasn't worked out for them somehow. In the examples below, they are running ads for a contest. Around 5 creatives are being circulated with the same copy (except a few with a space text).
It's interesting to note that they're inserting "customer testimonials" in their ad copy.
The weak point from the example below: the call to action redirects to the homepage instead of the product page! For the retargeting phase, they uploaded their products catalogue and ran dynamic product ads.
These types of ads work really well since they are highly targeted.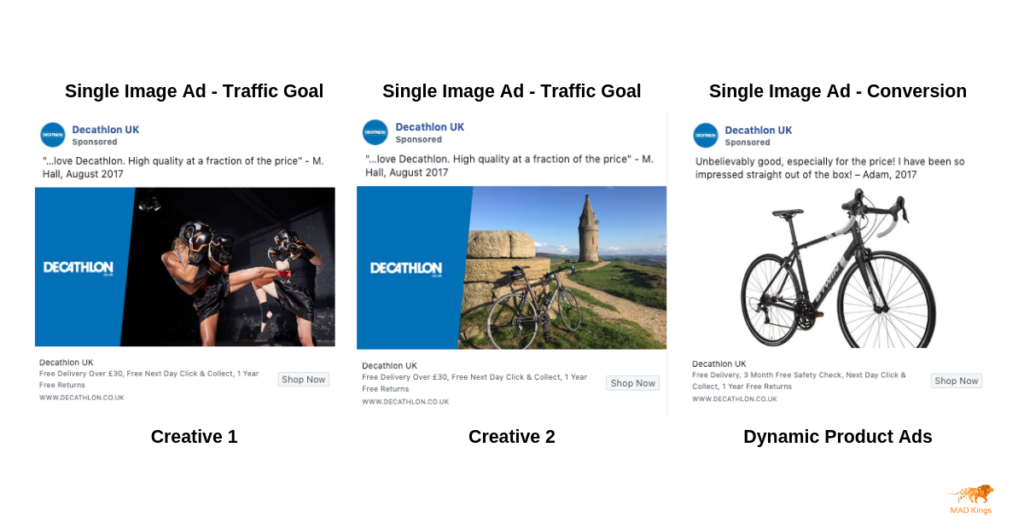 By contrast, SportDirect.com seems to be testing more placements and creatives.
They are using carousel and video ads to promote new brand products (Reebok). Their Facebook ad strategy is also focused on testing interactive and creative ads via Instagram stories.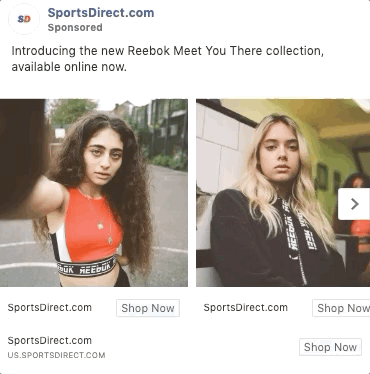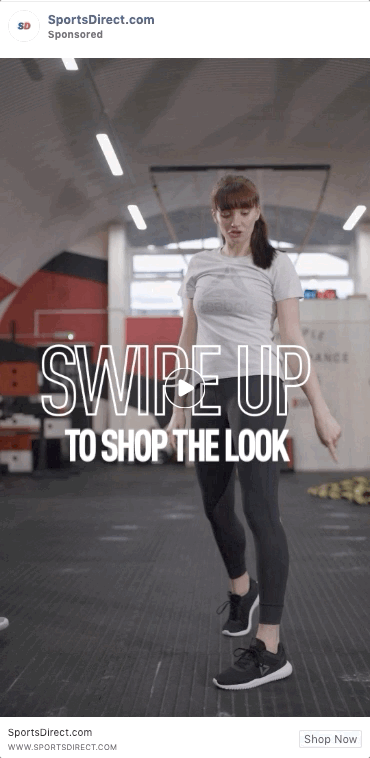 Social media
Social media only counts for 2% of Decathlon acquisition traffic.
As you can see from the graph below, Facebook and YouTube are their top social media channels, followed by Reddit.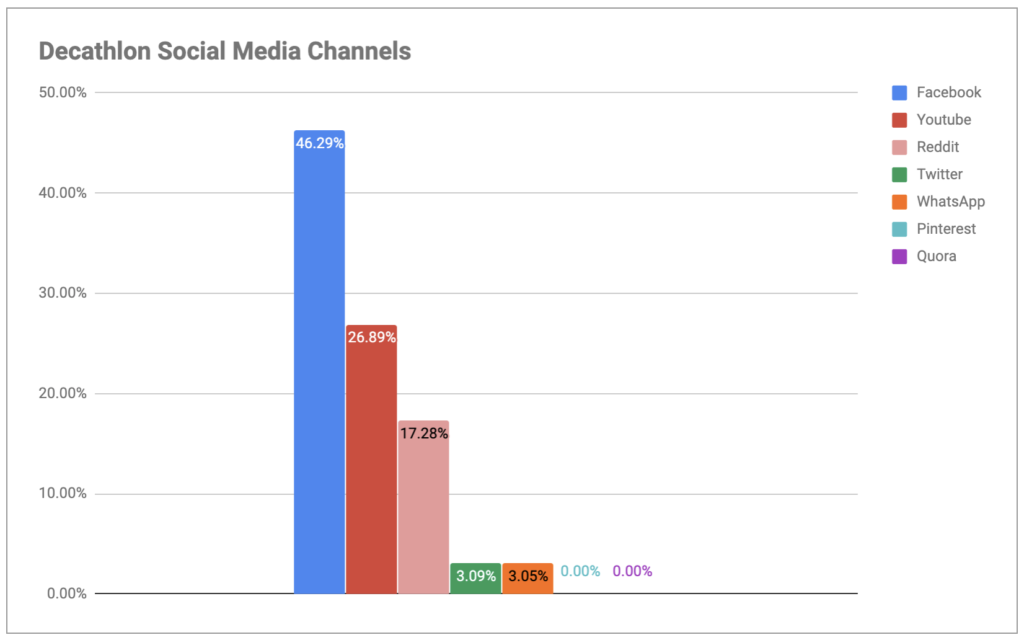 Surprised to see Reddit?
You shouldn't be!
Because just like Quora, Reddit is a site where people go to ask advice from other people. Basically, this is where your customers might be hanging out! As a matter of fact, Decathlon has its own sub-reddit.
Let's explore their top social media channels:
Facebook page
YouTube channel
Instagram profile
Facebook Page
Just like their websites, Decathlon has a unique Facebook page for each of their locations. While this involved more work, it reflects their marketing strategy.
With 160k followers on their Facebook page, Decathlon is using Facebook as a way to engage with their community. Although they don't post very often (around 1/week), they mix the type of content by including images as well as native videos.
They used a pinned post to advertise their new brochure for schools (sales focused).Weak point: they take on average 20 hours to answer a user post!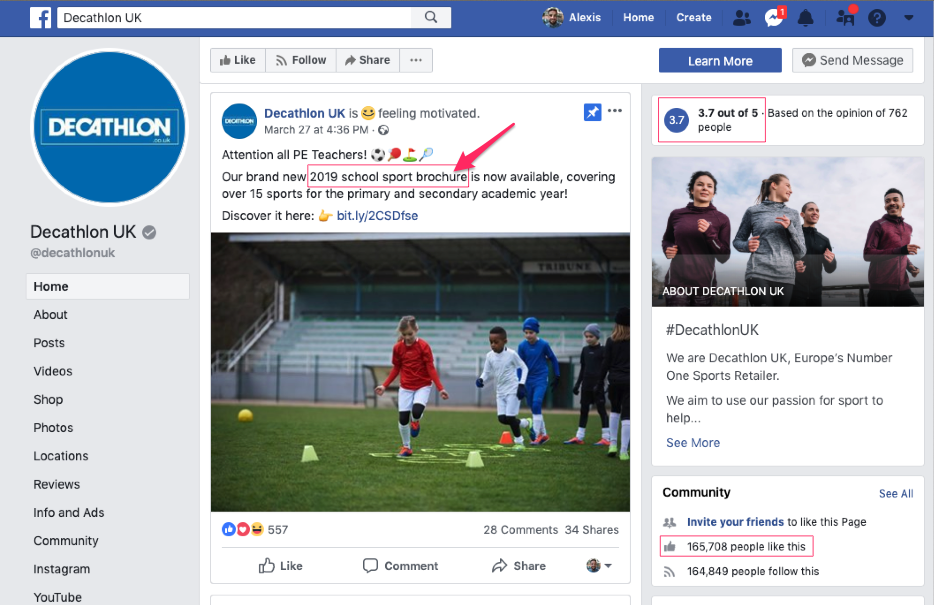 YouTube channel
YouTube is Decathlon's 2nd social media channel.
But we were surprised by the number of followers… only 3K! That's pretty small for a brand like that. And it appears that they are not taking any active measures to increase it. Their content is well organized with strategic tags that include events (Christmas) and sports categories. This is good both for SEO and for users who can then choose the content most relevant to them.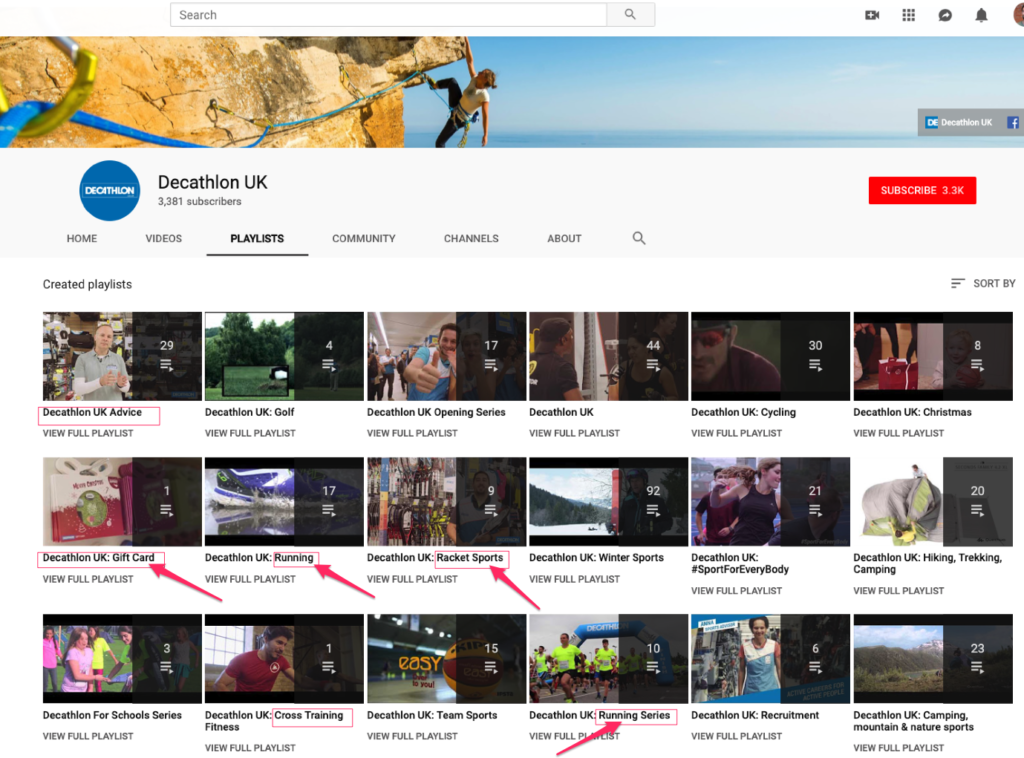 You can see their most viewed videos in the table below. They can actually make further use of them by turning them into articles for their blog!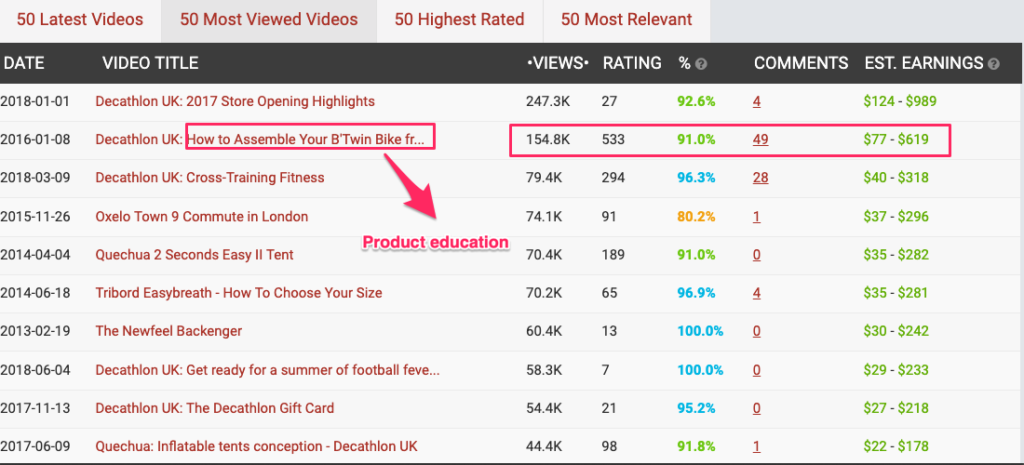 Instagram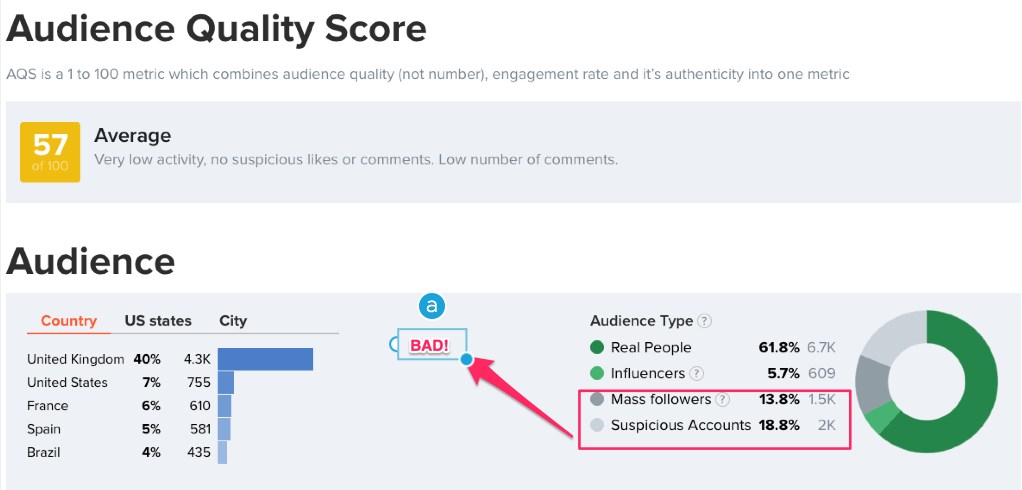 Instagram is clearly not Decathlon's strongest social media channel.
The problem?
A lack of engagement from their followers!
With an average of 102 likes and 2 comments per post, their average engagement rate only reaches 0.96%. Here again, they haven't put any effort into leveraging the power of this channel. The Instagram channel isn't promoted on their website like Facebook or Twitter and most of their posts are quite generic.
It's unfortunate because Instagram offers real and significant opportunity for driving sales!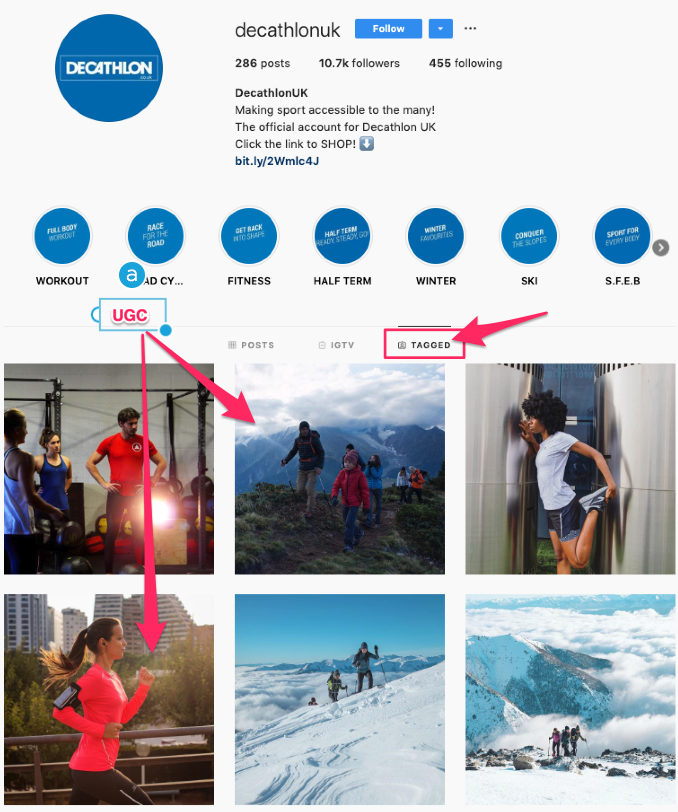 A quick win: go for user-generated content (UGC).
When looking at their tagged gallery, we can see that people take high-quality pictures while doing sports.
Those are REAL people ready to promote your products for free because they're proud of what they've done! If Decathlon recognized the potential of such an opportunity, they could increase their brand awareness, user engagement, and sales at the same time!
Email Marketing
This is how Decathlon's email strategy looks:
Decathlon UK has a minimum of 7 dedicated drips/journeys for their emails according to Mailcharts
The emails are relativelyclear, but one major flaw in the design  is that the body message of the email gets lost amid the mismatched fonts.
According to Mailcharts, their best day for email performance is Monday.
The emails look as though they have been designed with mobile-first in mind, given the font size and image sizes they are using in the body. But the personalized message in the body of the email should be optimized for mobile too.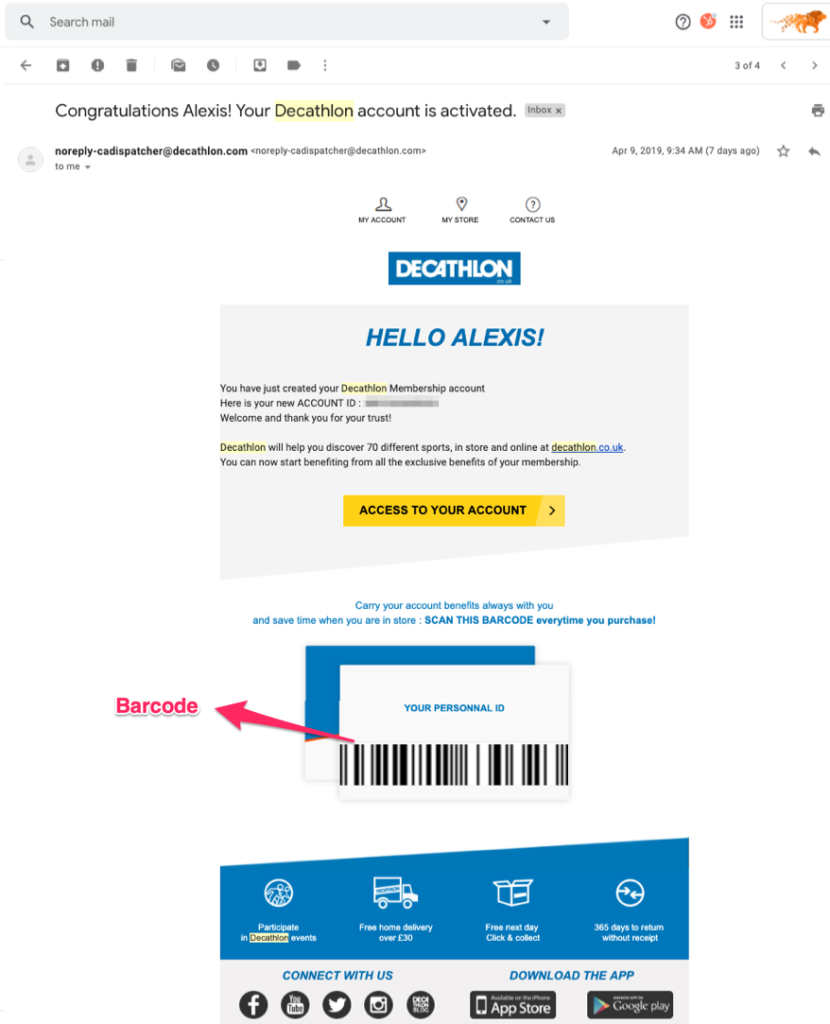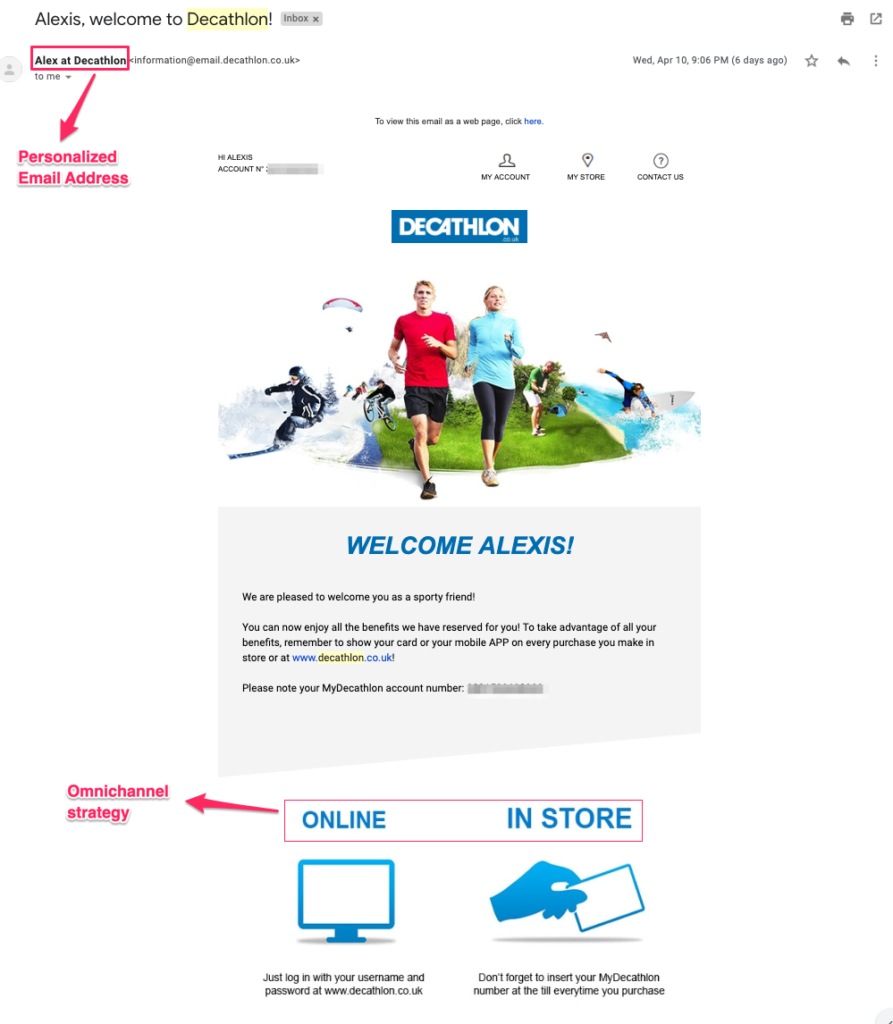 Influencers Marketing
Trust and inspiration.
That's why people buy products and services.
We are more likely to purchase from people who share the same passion, struggle, and goals than from a generic brand.
And Decathlon understood this.
They are actually working with micro-influencers — partnering with bloggers who are experts in different sports, so they can reach as many people as possible!
This is a very clever strategy!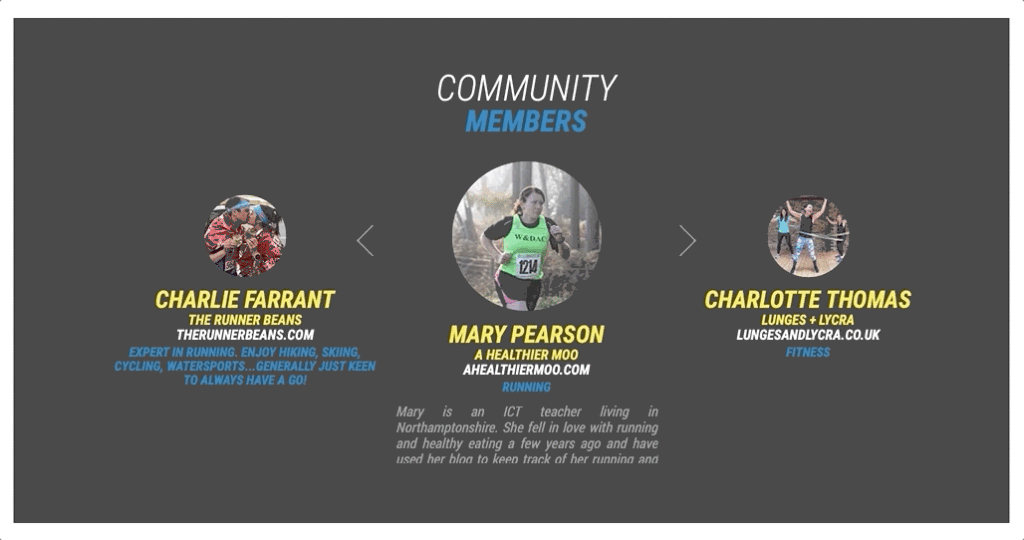 Partnerships
Running an affiliates program is a great way to boost online sales.
I'm not sure how well they're promoting this, but they have built a specific page for this program. While it's not open to everyone (browser plugins, discount vouchers sites, etc.), you need to submit your candidacy to become an eligible affiliate partner.
Here are the perks:
Sales commission from 2-4%
Access to 41,716 products
Access to Decathlon tools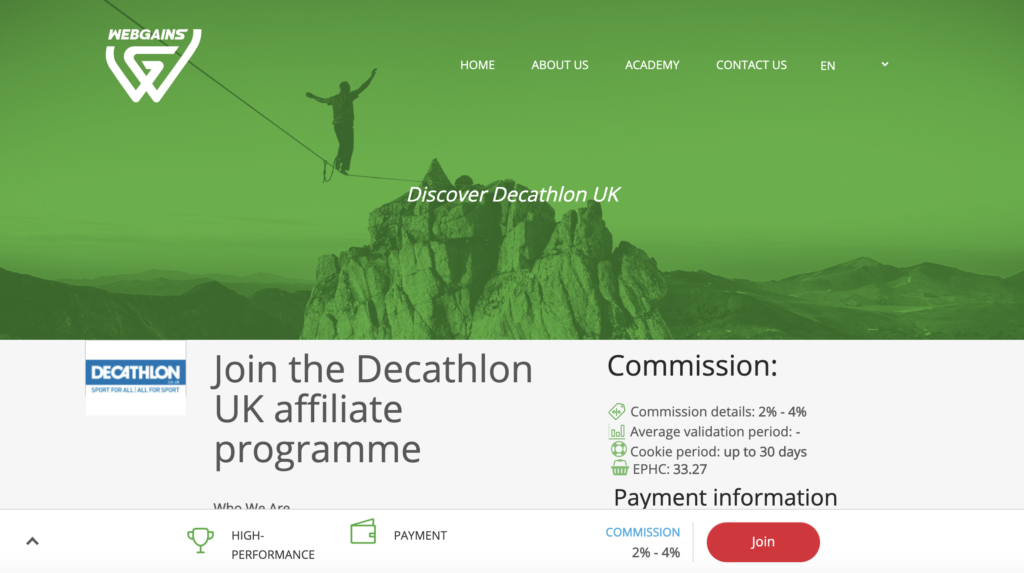 Website audit
Conversion rate optimization for the homepage
Product page analysis
Check-out process
User experience
Conversion rate optimization
In order to increase your website conversion rates, you need to understand the basic principles influencing people to take action.
An efficient framework for this is Cialdini's 6 principles of influence.
Let's see how/if Decathlon takes full advantage of them :
1. Reciprocity
When people receive something first, they are more likely to give.
This principle is usually used in ecommerce to get an email in exchange for a discount on your first purchase.
Nothing can be found on Decathlon's website that matches this principle.
2. Engagement
If people take a small action or pledge, they are more likely to take another action and follow through.
This behaviour comes from people's desire to be consistent with the choices they make in life.
Nothing can be found on Decathlon's website that matches this principle. 3.
3. Social proof
People are influenced by other people's behaviours. In other words, people are more likely to take action if they see others taking that same action.
Here are a few features Decathlon uses to reinforce the social proof principle:
a) Testimonials and reviews
Decathlon showcases customer reviews in various places on its website. Below is a screen capture from the homepage: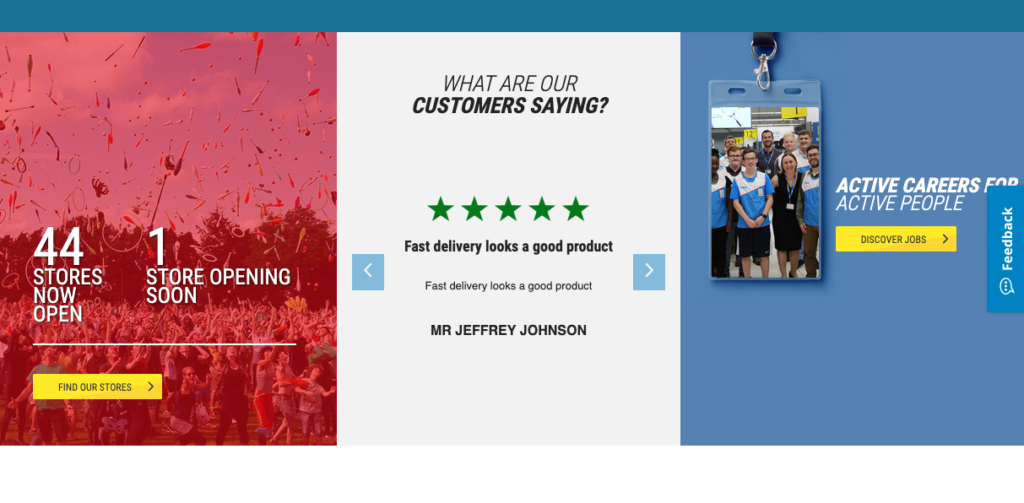 We usually advise our clients to showcase their reviews as high up on the page as possible, as those are the strongest asset you have to build trust.

The Trustpilot box on the homepage is quite small and is probably not seen by the majority of visitors.
We believe the customer reviews should be more prominently featured  on the homepage given the amount of positive customer feedback.
Decathlon also adds customer AND their own team reviews on product pages, which must have a high impact on the purchasing decision process.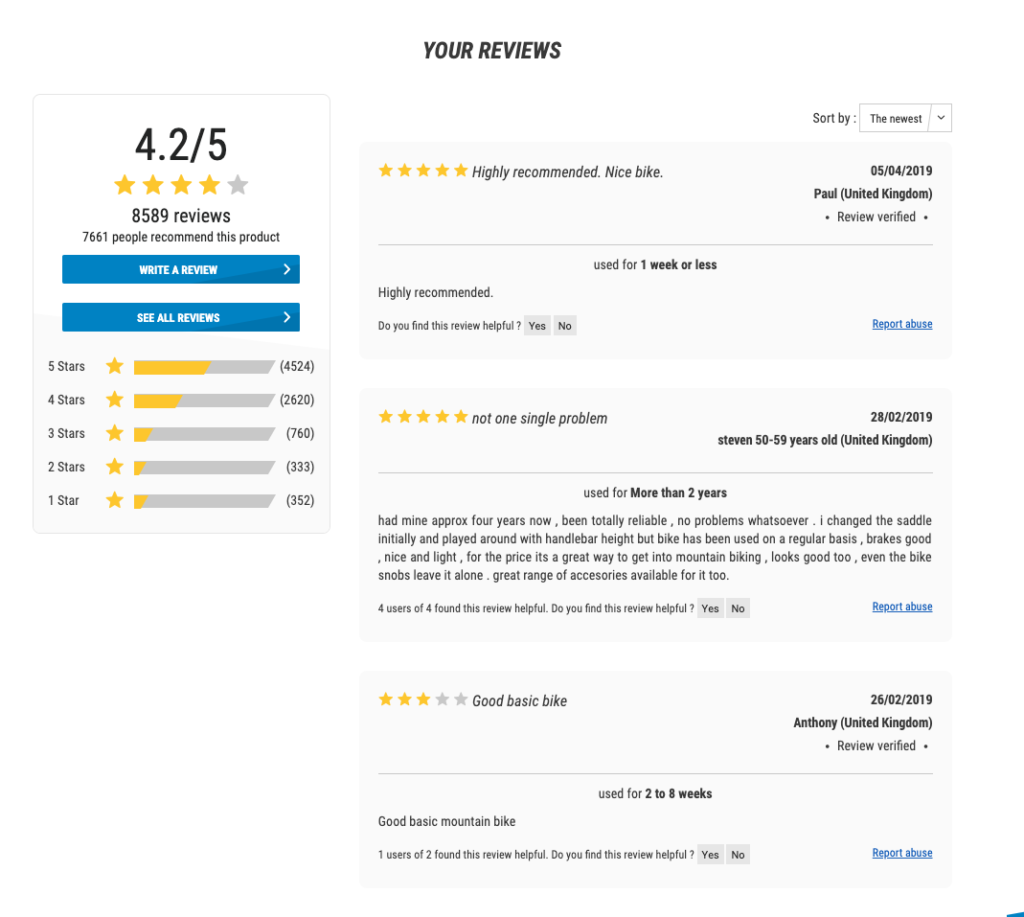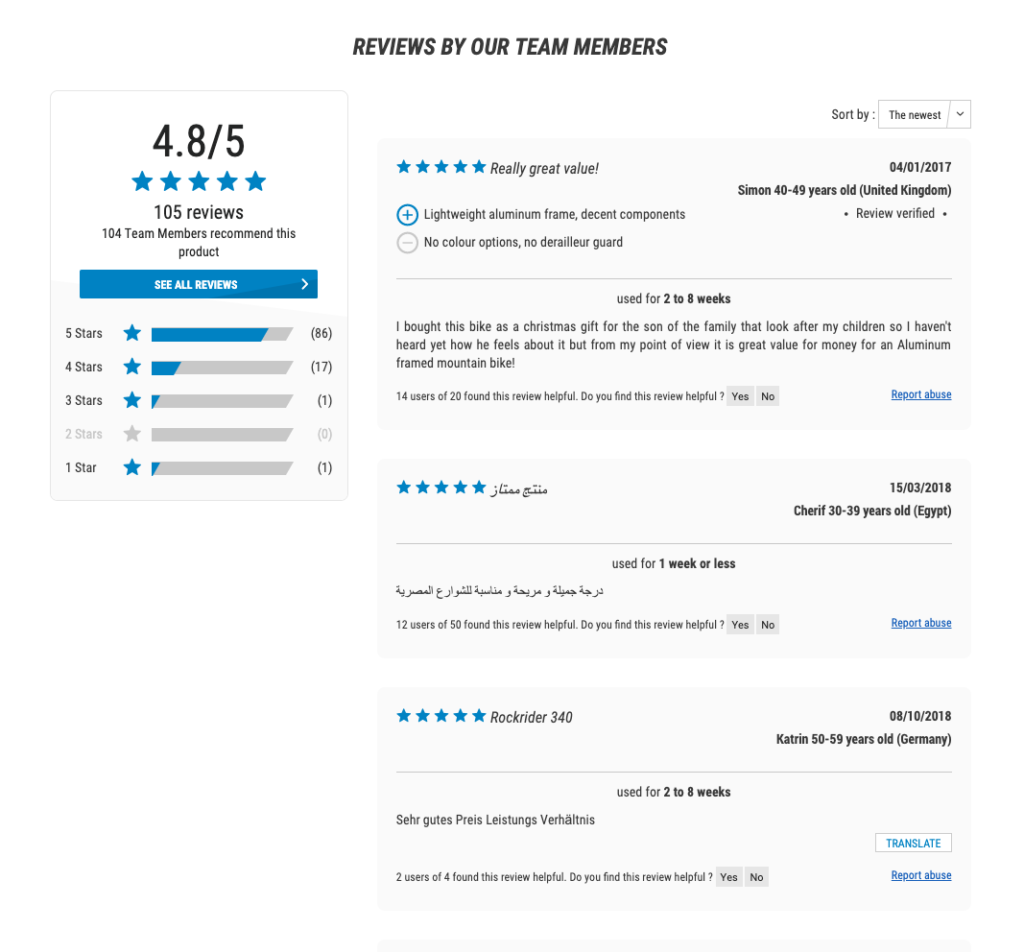 b) User-generated content
As previously discussed, user-generated content is a powerful way to leverage customer assets to inspire trust and increase conversion.
Decathlon does not have a company profile/account on Instagram (a pity), but it allows customers to integrate their photos directly on the website:

c) Customer promise
When running an e-commerce operation, you need to clarify the parameters of what we call the 'customer promise'. What is your customer promise when it comes to:
Quality
Environment
Return options
Payment security
All of the above are sensitive subjects that influence the purchasing decision. The customer promise does not appear on the homepage or the product pages, unfortunately, but it is clearly presented on specific category pages such as cyclingand camping.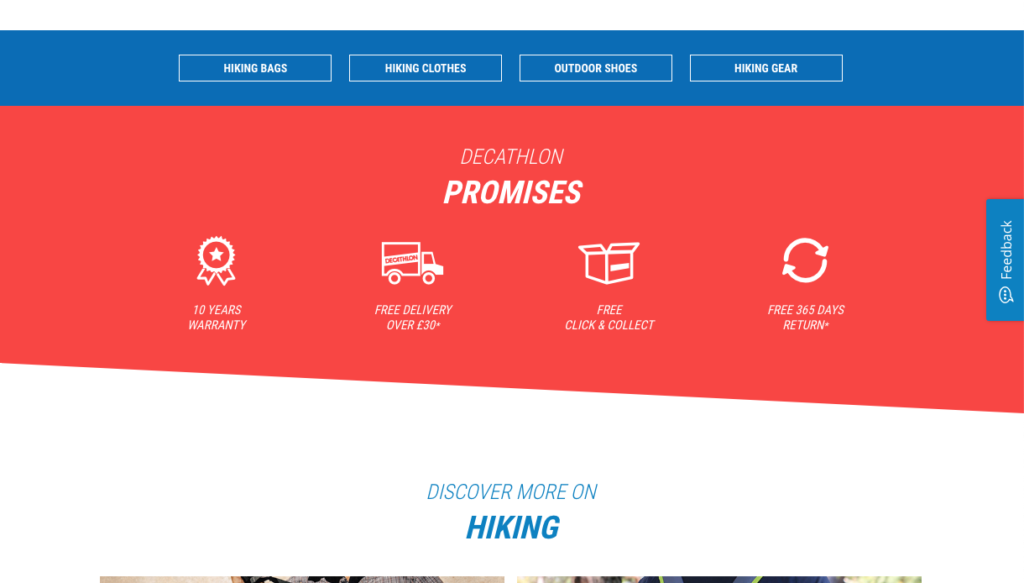 4. Liking
People are more likely to give if they like the person/company they're buying from.
The best way to create a connection with someone is to get that person to identify himself/herself with you.
Your 'about' page, along with your mission statement, plays an important role here.
We would advise Decathlon to take the 'about' page to the next level and showcase the team members behind the e-commerce and in the retail stores, along with their story and passion for the sport.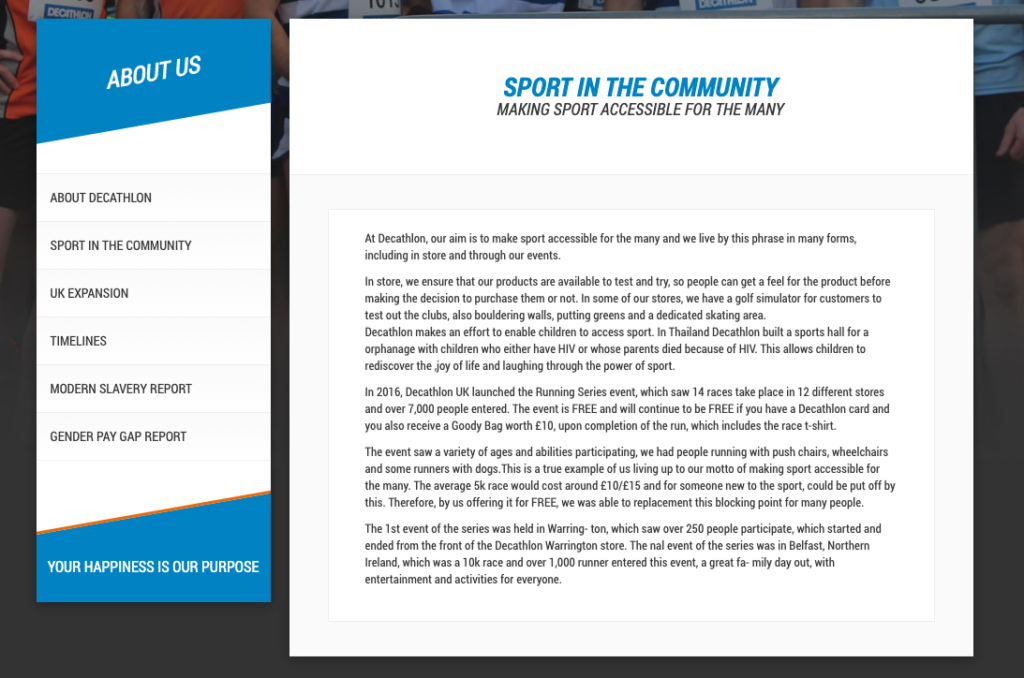 5. Authority
People are more likely to follow and emulate other people or to buy from companies that they consider to be trustworthy.
This is why we tend to respect and listen to people wearing a uniform or possessing a diploma, such as a police officer, a lawyer or a doctor.
Decathlon uses this principle by hiring only sports fans to join their teams and by producing a lot of high-value content about the sports their fans follow and participate in.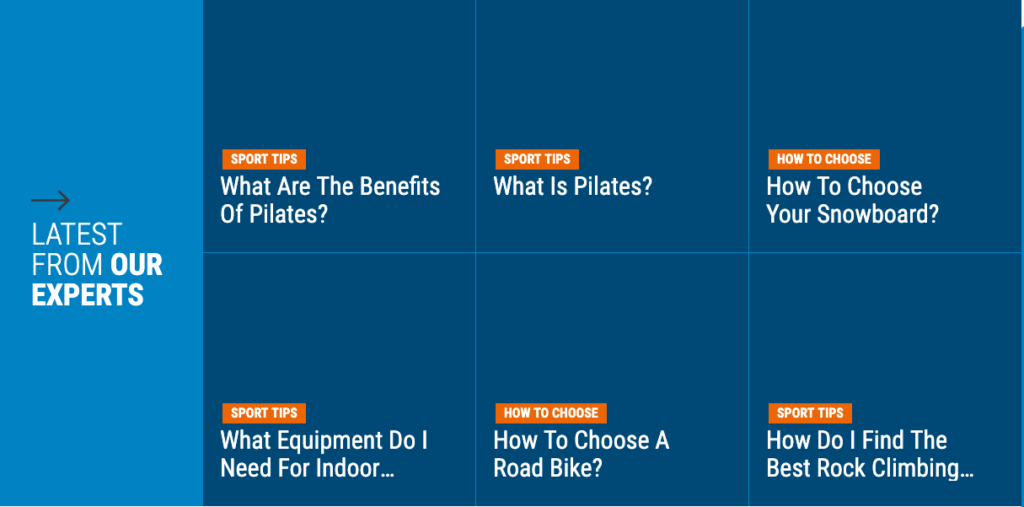 6. Scarcity
The oldest one in the book but very effective.
People are more likely to buy when trying to avoid a sense of loss or missing out.
Decathlon does employ this principle very often, except on the product pages of the sales section:
Product page analysis
How they are segmenting their customers
The smart trick to sell their brand products
How they keep the customers on their website
How they are segmenting their customers
People hate searching.
Since Decathlon is targeting the masses, they need to make sure visitors can find what they're looking for as fast as possible .As we can see from the picture below, they respect the "3 clicks rule". When accessing the menu, there is first a general list of options (sport, accessories, Spring collection, …).
Then, if the "sports" category is selected, for instance, they show you a list of all the sports they carry (79+), which acts as a second filter. These individual sports sections are used as landing pages for their paid search campaigns!
Finally, there is a third filter showing you more specific subcategories (soccer shoes, soccer shirts, soccer shorts, etc.). Their filtering system is pretty advanced and well thought-through to showcase the desired product as fast as possible.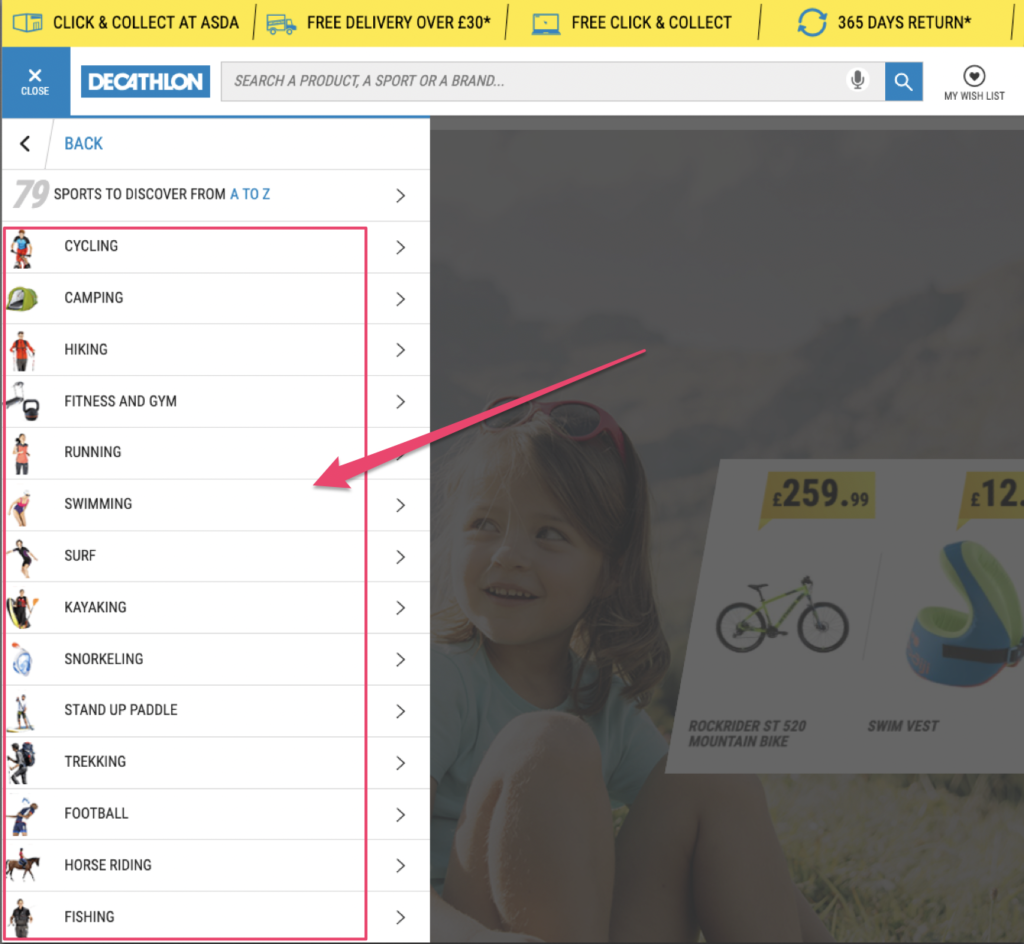 The smart trick to sell their own brand products
Remember their products strategy?
Producing their own brands to take over the world!
They are actually doing the same on their website. Whenever customers look for a product, they will always find Decathlon "passion brands" in the top results!
But wait, there is more…
The product results page is actually divided into 3 rows, as follows:
Best seller
Best price
Recommendation
These options allow them to add another layer to the customer segmentation.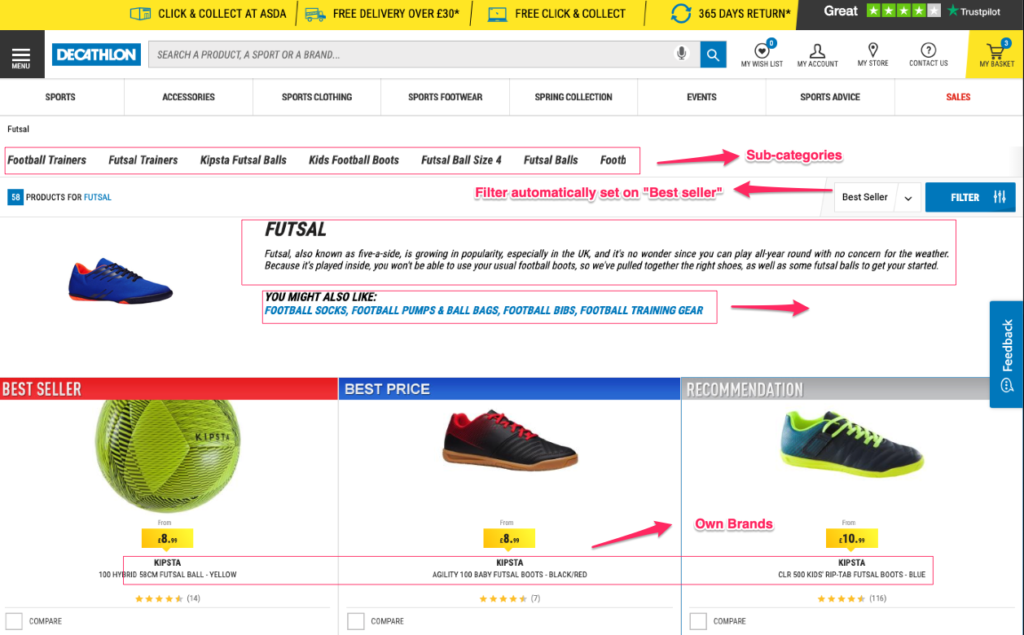 The last feature we noticed is their "comparison tool" box. Customers can compare up to 3 products and view each product's details, customer reviews and availability.
This is genius because people often go from one website to another and compare the products based on the details mentioned above.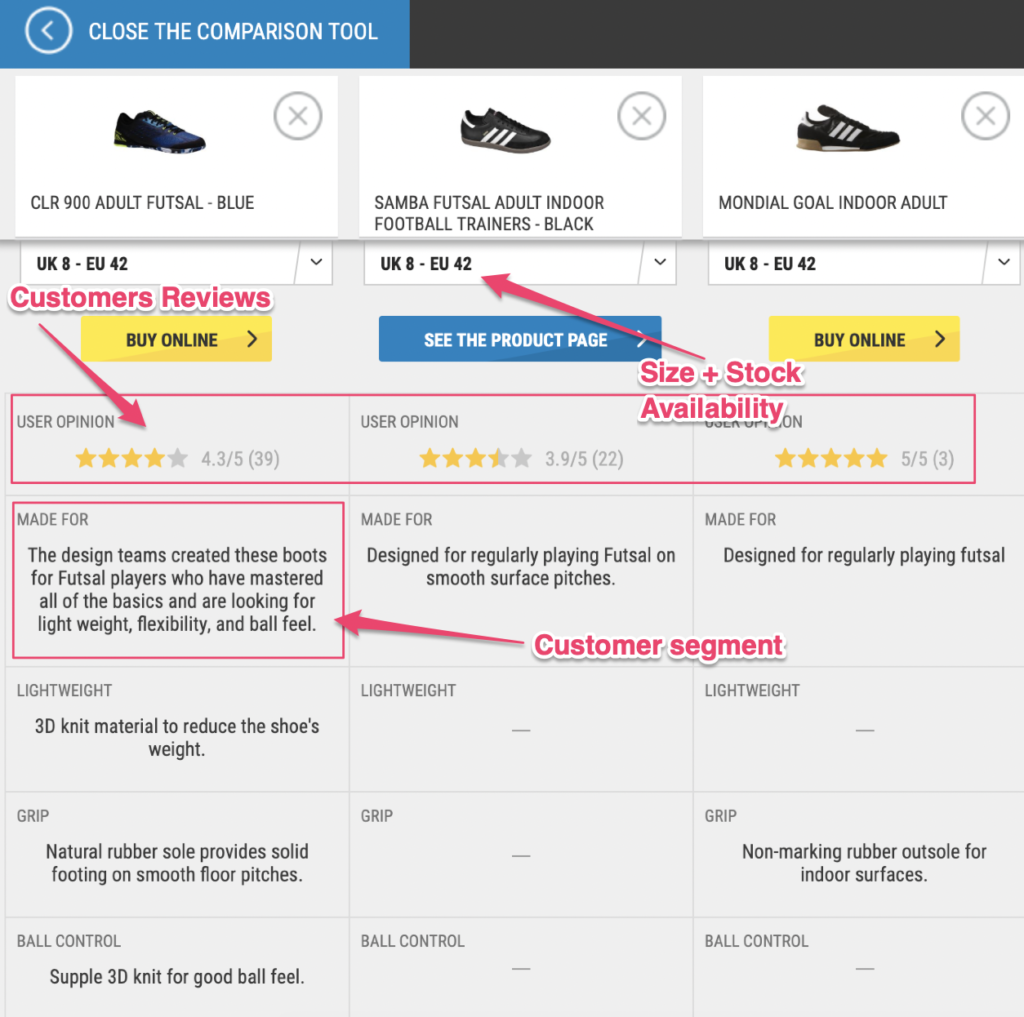 How they keep their visitors on their website (to buy)
"We're sorry the product is out of stock"
Nothing is more frustrating than this message!
What's more incredible is that we have come across some Facebook ads for products that are not even available anymore.
Fortunately Decathlon is smarter than that.
If your product is out of stock, they offer you 3 alternatives:
Alternative #1: Check availability in stores
Alternative #2: Be alerted of product availability by email
Alternative #3: Call to action to see similar products
Why is that good?
Well, they actually prevent people from leaving their website and offer them alternatives!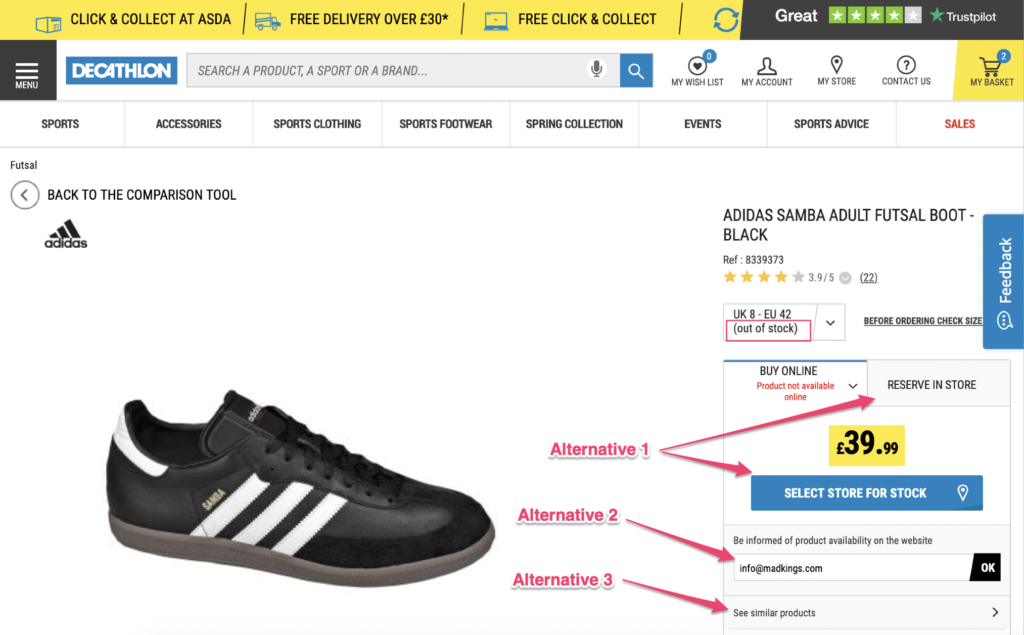 However, there is one improvement that could be made.
In the customer reviews section, visitors are invited to "be the first to share your experience". The idea here is to encourage customers to share how they wear/use a particular product to increase the conversion rate.
It's a shame that this section was empty because it could be a good way to build a growth machine for their products as well as leverage a user generated content strategy!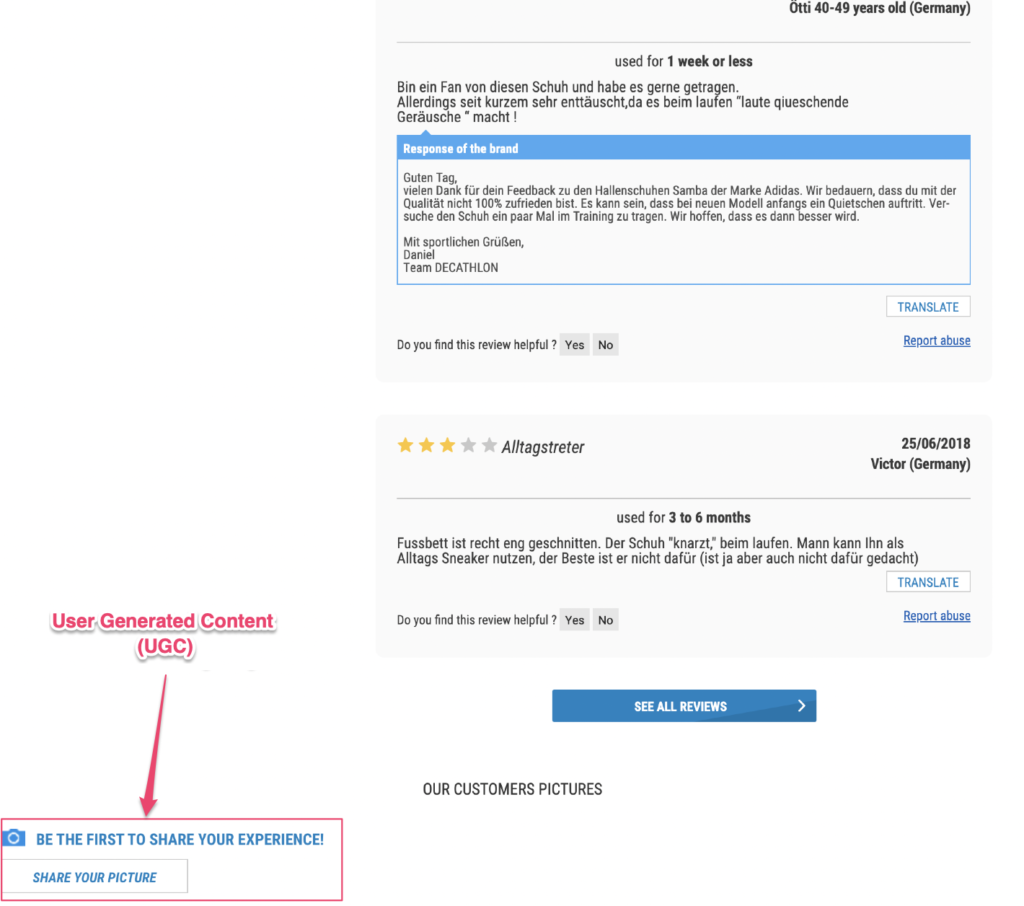 Check-out process
Pros:
You know in advance what steps are involved when you are planning to purchase a product
Each step is clearly presented, with highlighted CTA's to guide you through the process.
Good UX writing, no cognitive overloadwith cumbersome or wordy text. No unnecessary images and icons. This allows the company to guide customers forward to the quickest possible check out.
You are not obligated to create a password.
You have high choice of delivery & pick up options at your disposal.
Cons:
The account creation process is not very user-friendly. You may think you are creating a guest account/check out, butthey automatically create an account for you and make you a Decathlon member, even if you did not choose to become one.
Phone number should not be a mandatory field nowadays.
Step 1: Choose the product + cross-sell opportunity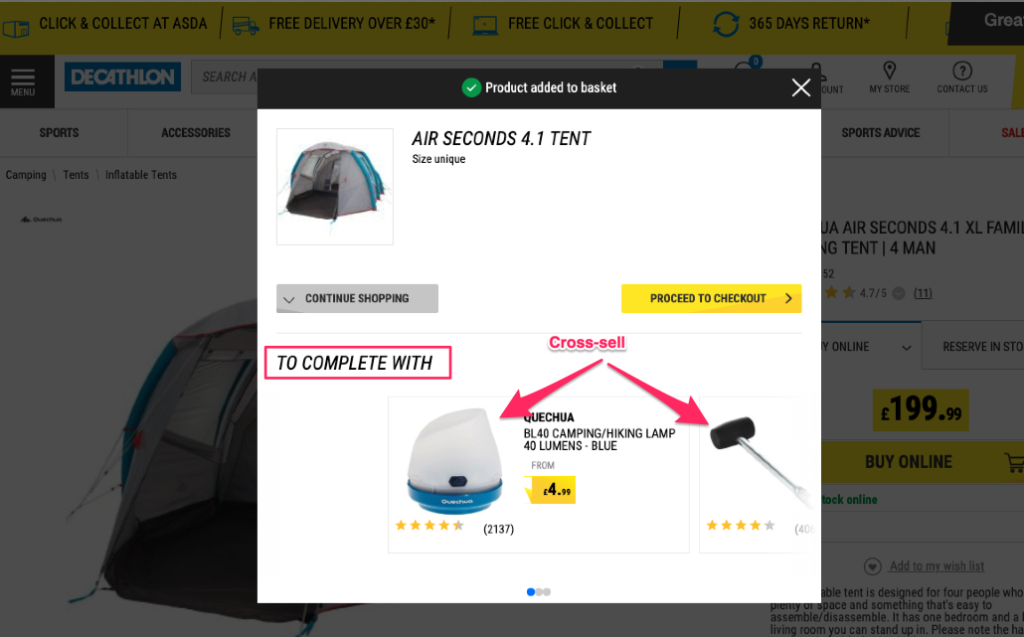 Step 2: Account login and delivery information form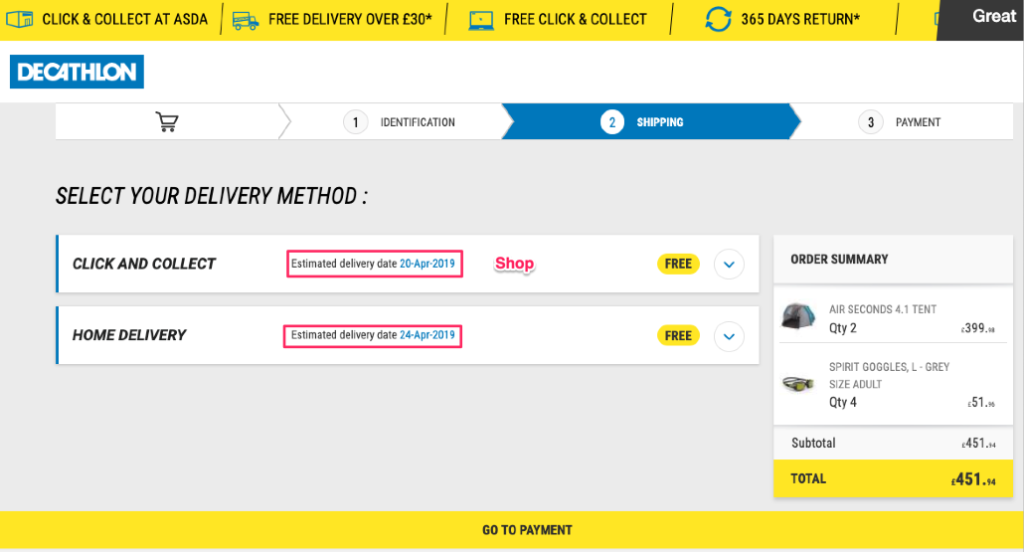 Step 3: Payment process via Ogone or Paypal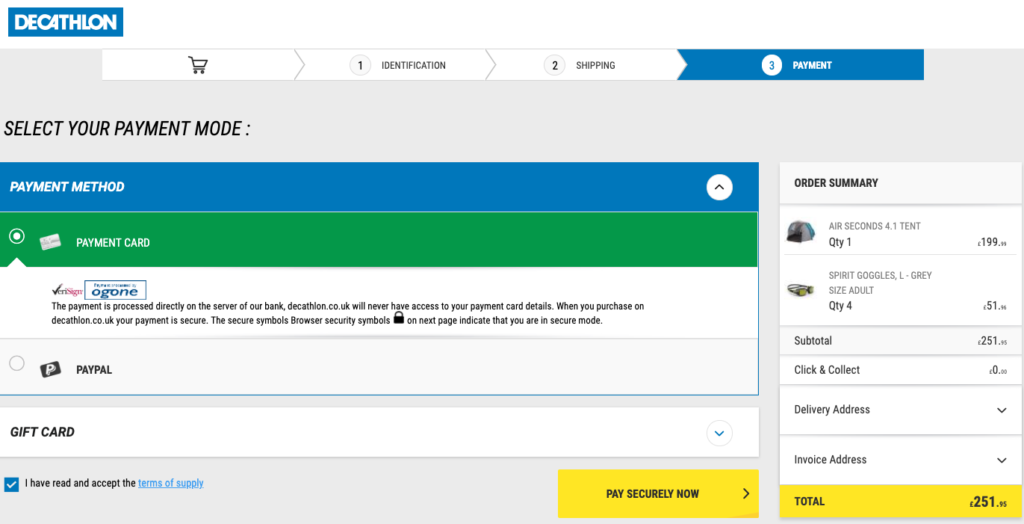 User Experience
When buying online, people are impatient!
Website speed, moreover, is a ranking factor for Google. After auditing Decathlon's UK website, we were quite surprised by the results…
It takes almost 9 seconds to load!
There is a lot of room for improvements as well as for the desktop and mobile versions of the website. CSS codes and image sizes are the main reason why the website takes so long to load.
Important: Make sure to also test your website reliability!

Revenue streams strategy
Ever heard of the value ladder concept?
The idea is to guide your customers through a sales funnel that extracts maximum revenue from each of them whilst providing value at the same time.
It goes from your lowest value product offer (used as bait) to your highest priced product.
After analyzing the value ladder from Decathlon, here's what we found:
They use multiple acquisition channels to drive traffic to the homepage. But the mistake they make is not having a way to capture people's emails (no bait).
Their value ladder continues as follows:
Front end offer: selling brand accessories first
Middle offer (core product): focusing on selling their brand products (Btwin bicycle)
Back end offer (expensive): selling to schools and businesses
Retainer (monthly revenue income): Accident & product insurances
From what we've observed, they don't have a higher offer than the offer they make to businesses and schools. And it's a shame because it seems to be a lost opportunity for making even more money!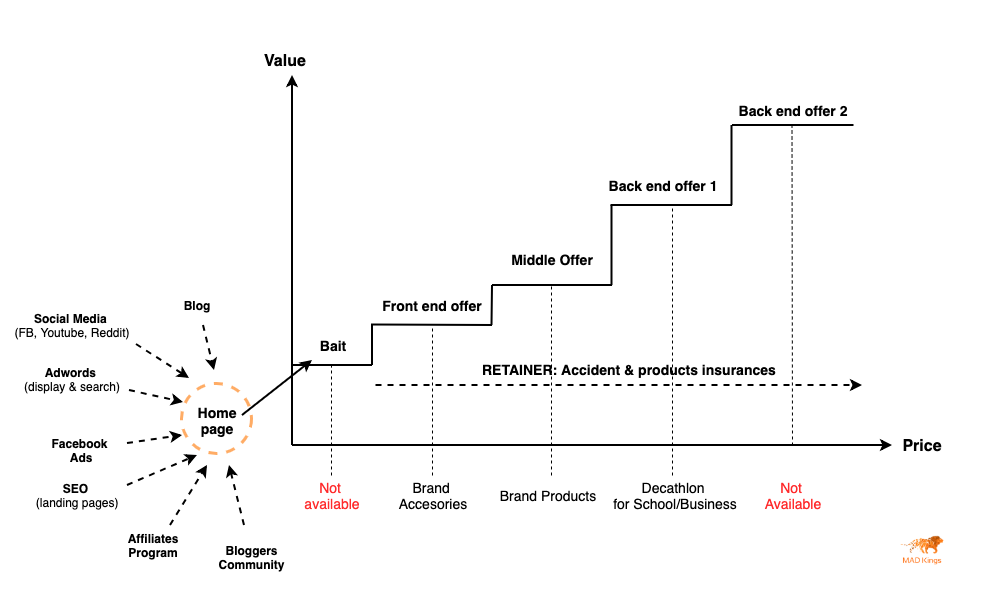 It's interesting to notice that their "retainer" is only available in France and not in the UK.
Their retainer offers are focused on 4 sports:
Bicycling
Skiing
Fitness
Fishing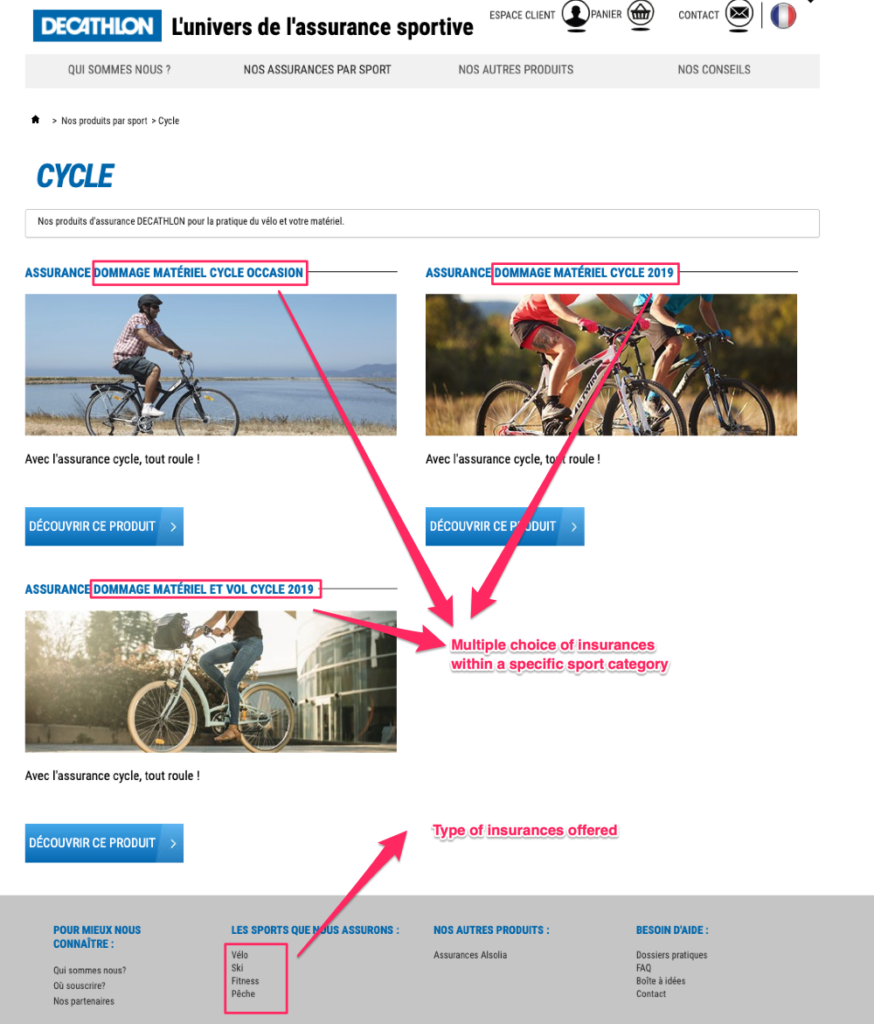 Tools used by the marketing team
Choosing the right tools is crucial for your business growth.
Unfortunately, we notice that most of the time companies choose their marketing stack based on (shiny) trends rather than their current needs. Always keep in mind that a toolstack should match your whole customer journey!
From what we observed, Decathlon uses Advertising networks (Facebook, Adwords, …)  to send messages to their audience (Awareness) and drive traffic to their website (Acquisition).
What's interesting, however, is that they seem to put a lot of focus on optimizing the phase "from visitors to customers" (Activation).
Trustpilot: to showcase reviews from happy customers
Lucky orange & Crazyegg: to understand customer behaviour with heatmaps
A/B Tasty: to run A/B tests on their website
They are using both Mopinion and Trustpilot as a way to keep their customers (Retention). Decathlon chose Ogone and Paypal to manage and process payments for their customers (Revenue).
Unfortunately, we haven't noticed any tools to persuade customers to refer their friends to buy from Decathlon (Referral).
The first 3 phases (Awareness, Acquisition and Activation) are measured by Google Analytics and CommandersAct. We don't have access to the data for the last 3 "R" 's, but we assume that they use internal tools and data.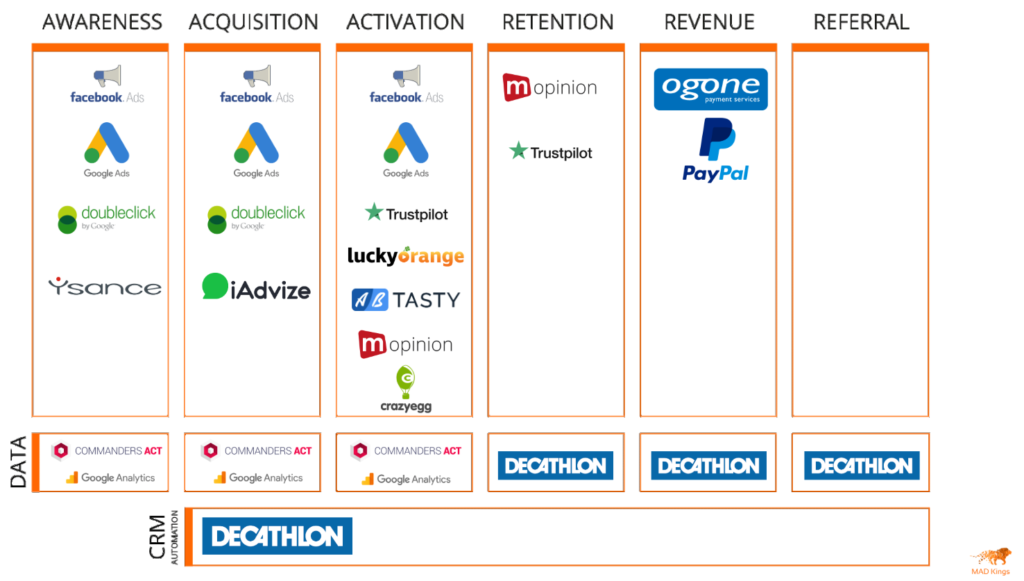 [BONUS]: Decathlon's strategy mapped-out on the Growth Marketing Canvas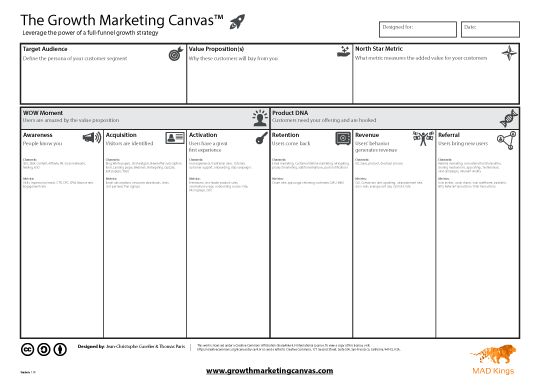 Conclusion
There is no mystery behind Decathlon's growth story.
It all comes back to one thing: having a great product!
Adopting a local focus, developing their own brands and creating innovative products based on customer feedback.
These are the key elements that have led to the success of Decathlon.
But, although they have mastered the offline strategy, there remains a lot of opportunities to substantially increase revenue through their e-commerce business online. The key to their online growth is to optimize the full funnel!
Too many times, companies tend to limit their marketing strategy to the acquisition phase…
while the real growth opportunity lies in the post purchase process!